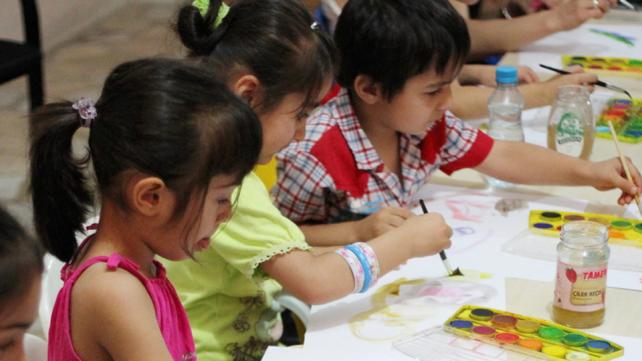 Dear Diary...
Get the kids to write and bind a book or journal about their summer.
Swingin' On The Family Tree
Do up a family tree! Great project for the whole family.

Buy, borrow or rent an inexpensive tape recorder or video camera and have the kids put together an audio/video family history by interviewing grandparents or other family members. Grandparents speaking on their marriage, occupations, memories, ideas, advice etc. will be a cherished document for future generations.
Get Your Head In The Clouds
Urge younger children to study the shapes of passing clouds, then use cotton balls and glue on paper to recreate the images they saw.
Being Crafty!
Have kids start a craft box with odds and ends they find outside or around the house. Use the items to make silly gifts or works of art.
Family Ties
Do you know a friend or family member in another country? Set them up as a pen pal for your kids. It will strengthen ties of kinship with the whole family and help to keep up your child's skills of handwriting. During the summer they should be able to exchange at least a few letters. E-mail is quick and easy but letters are special and personal. Vive Le Crayon! ("Long Live The Pencil!")
Fun With Food
Each week, teach your children a recipe and let them prepare the meal themselves (either under your supervision or the supervision of a responsible older sibling). They will enjoy the freedom in the kitchen and you will see them blossom with creativity and a sense of fulfillment. Remember parents: The Prophet Muhammad (peace and blessings be upon him) never complained about food he was given, so smile as you eat the most interesting meal of your life!
Fun With Fundraising
Go through the kids' clothes and toys to find items they have outgrown then help them set up a weekend yard sale to raise money for a local Masjid or community fund raising event. (Have the kids donate to relief efforts in any other country where people are in need.)
To Market, To Market
Make weekly or biweekly grocery shopping more meaningful and provide children with a sense of responsibility. Budget a certain amount each week ($10.00 or $15.00 – whatever you can afford) and as you grocery shop, have your children gather as many diverse, healthy, nonperishable groceries as they can, not exceeding the designated amount. Take the kids to a local food bank where they can hand over their grocery collection personally. During the week, have them collect newspaper coupons to assist. This exercise will be a family lesson in budgeting, organization, math and charity all rolled into one!
Photo Attribution - Birhanb - http://commons.wikimedia.org/wiki/File:Children_having_lessons_in_Halkevleri_summer_school.JPG