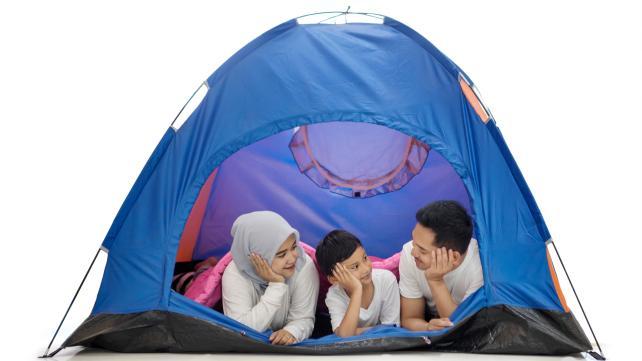 The winter break is upon us and it's a great opportunity for families to unwind from a year full of the hustle and bustle with work and school. Many parents take a week's vacation to hang out with their children while they are off during the holidays. And that makes the winter break a great time to strengthen the family unit and enjoy each other's company for the next week or two.
Some families may have planned winter getaways and trips, but others may simply stay warm in the comfort of their own homes. While our homes are comfy and cozy, we may struggle to figure out exactly how to stay busy and maximize the time off (without binge-watching on Netflix or USHUB!).
As a parent of six, I pondered on some creative ways to make this staycation the best one yet. Here are ten activities to consider over this winter break in no particular order:
1. Create some cool Islamic art and frame it.
Research some amazing Islamic art and grab some paper, colored pencils, or markers. Encourage the entire family to get involved. Recreate what you see and give it your own unique twists. Then use cardboard to create your own picture frames, decorate them, and add your pictures. Now you can display your very own gallery of Islamic art around your home.
2. Prepare hot meals and collect coats for the homeless.
Two specific hadiths, the recorded sayings and actions of the Prophet Muhammad, peace and blessings be upon him, come to mind. The Messenger of Allah, said:
"The best of you are those who feed others."

(Musnad Ahmad)
In another hadith, the Prophet, peace and blessings be upon him, said:
"When a man earns wealth from what is lawful, and he feeds himself, or clothes another among the creation of Allah, it will be regarded as charity for him."

(Shu'ab al-Iman)
In a large part of the world now, it's cold outside! And there are so many people who are in need of food and warm clothing. Use some time during the week to prepare hot meals together as a family. Each member can contribute to the meal or the packaging. Place the food in a bag and share them with those who are less fortunate. You can also reach out to your local homeless shelter to drop off some food that can be distributed.
Another activity you can do is dig into your storage and see if you have any warm clothing that is not in use. Others can benefit from the clothing to stay warm during the cold winter months rather than just allowing it to collect dust.
3. Read a good book together as a family and discuss it.
Select a good book as a family and get together around the living room or fire and read it together. You can even act out some of the parts of the book for fun. Once you are done, discuss the premise, meaning, or moral of the story and tie it to stories of the prophets, peace be upon them, or famous stories from our rich Islamic history. You can even tie it into your own lives and share fun stories and memories.
4. Have a snow sock fight.
If you hate laundry as much as I do, then you know that the worst part of doing laundry is pairing up socks, especially with eight people in your house. Do not fear because there is now something fun and useful for all those loose socks. Schedule a SNOW SOCK FIGHT! It is like a snowball fight without that snow, ice, or frozen hands or toes. Simply create sock balls, place them in different corners of the living room and, voila (behold), instant entertainment! Go crazy throwing sock balls at each other and enjoy the fun.
5. Create an indoor campsite.
This was one of my favorite things to do on the weekends as a child. I liked taking the sheets and blankets, hanging them over the chairs and sofa, and making my own campsite. I would even decorate it with pillows, sleeping bags, stuffed animals, and toys and sneak in some snacks and goodies. Purchase glow sticks or flashlights, turn off the lights, and start telling extraordinary stories around the "campfire" (no fire needed). Once you are tired, crash in your cool tent for the night and catch some Zs. An indoor campsite is a great way to foster creativity and work together toward a common goal. This is the only activity I would recommend building around a TV and enjoying a family movie night with your loved ones.
6. Dust off the puzzle and board games.
One of the most traditional and yet best ways to enjoy the winter break is by dusting off those puzzles and board games sitting in your storage closet. Who doesn't love a great game of Monopoly™, Chutes and Ladders, or putting together a crazy puzzle set? Board games and puzzles are a great way to come together as a family, build communication skills, and encourage friendly competition.
7. Gingerbread masjid competition.
Now there is a reason to purchase those gingerbread houses on sale at the local box store. Instead of a house, why not make your very own gingerbread masjid? You can decorate it as you wish, but don't forget the tasty minaret. You can select teams and see who comes up with the best design. The winner gets to eat the gingerbread house!
8. Kirigami papercuts.
Enjoy kirigami papercuts or better known as making snowflakes out of construction paper. All you need is paper, scissors, and your imagination. Fold your paper in half, then into a triangle, cut here, snip there, then open it and see the unique patterns you just created. You can use different colored paper for variety, then tape it to the wall or windows are decoration.
9. Create a family scrapbook.
Create your very own family scrapbook and decorate it with all the special moments you and your loved ones had during 2022. You can use magazine pictures, clippings, stickers, photos, hand drawings, or other decorative materials to represent each moment or memory. You can set your images or illustrations as a collage and set it up as a timeline or by theme. The possibilities are endless! Pull out some old photo albums or scrapbooks for inspiration.
10. Islamic trivia pillow fight challenge.
Test your Islamic knowledge. Write down some amazing Islamic facts on index cards. One family member sits in the middle of the group while one person reads off the question, and another awaits with a soft plushy pillow. If the person answers correctly, they survive and move one, but if they answer incorrectly, they are bopped with the pillow and out of the game—the last person standing wins and is crowned Shaykh-ul-Akbar for the round.
The winter break doesn't have to be dull and boring, nor does it need to be spent in front of a device or screen. You can make your staycation enjoyable and an opportunity to strengthen your bond with your loved ones. Hopefully, these activities contribute to the family's fun and make this winter break one to remember. So, stay warm, relax, and have a great winter break, inshaAllah (God-willing)!
Hernán Guadalupe embraced Islam in 2001 while earning a Bachelor of Engineering at Stevens Institute of Technology. He holds a Masters degree from the University of Maryland, and a Doctor of Business Administration from Walden University. Hernan has studied Islamic sciences at the American Open University, University of Mishkah, and is currently completing his Bachelors in Islamic Studies. He also completed the classical Arabic curriculum at the Fajr Center for the Arabic Language in Cairo, Egypt. He is the co-founder of Hablamos Islam, a non-profit outreach program dedicated to creating educational resources about Islam in Spanish. He lives in Maryland with his wife and six children.