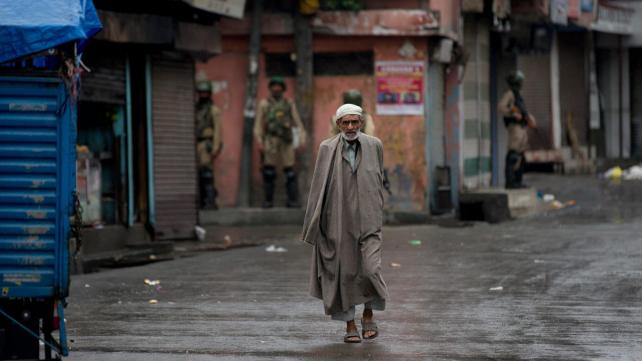 Kashmir's cause is moving forward thanks to American Muslims and our neighbors making freedom, justice, and human rights their priority.
After decades Kashmir was a subject of a hearing at the US Congress.
The Asia Subcommittee of the House Foreign Relations Committee held a hearing on "Human Rights in South Asia" on Oct.22, 2019.
The head of the Indian Caucus and the Subcommittee, Rep. Brad Sherman (D-CA), chaired the hearing. Panelists included the Alice Wells, Acting Secretary on South and Central Asia & Assistant Secretary for Human Rights Robert Destro. The second half of the hearing focused on testimony from human rights organizations and representatives from the region.
Hearings From Muslim American Perspective:
Considering that the highly organized Indian right-wing paramilitary RSS is aligned with right-wing extremists in the USA, it was a first significant show of concern by Muslim Americans who stood in support of Kashmiris.
At least one Muslim American leader was a part of the panel at the hearing.
On Kashmir Considerations:
There was good support for the human rights of Kashmiris.
Not a single Kashmiri Muslim addressed the hearing.
The right of self-determination for Kashmiris, however, was not brought up by any Congressperson.
Ranking member of the committee Rep. Yoho (R) of Florida explicitly declared Kashmir to be an internal matter of India which was neither contradicted by any expert, nor state department, nor any congressperson.
Hearings on Indian Minorities issues:
U.S. State Dept leaders did not say a single word about what Indian minorities are facing in India.
Questions were raised by Congresswoman Ilhan Omar about 1.9 million losing their citizenship in Assam
Not a single word was uttered by the State Department about the lynching of Muslims, Dalits, and Christians on the accusation of eating beef. However, three Congresspersons raised the issue
From Pakistan's Positions:
No one talked about Pakistan's claim on Kashmir.
Pakistan, however, was successful in bringing the first negative light on India if it was its goal.
A Sindhi American testimony was written exactly on the Indian talking points bringing attention to Pakistan minorities while remaining silent on the critical issues of Indian minorities.
Action Requested
About 60 Congresspersons showed their concerns about Kashmir. About 20 attended the hearings.
If your Congressperson did not issue a statement on Kashmir ask them why they did not do it as yet. Share what other congresspersons are saying
Below are the Congresspersons who attended the hearing:
If your Congressperson is not on this list call them and ask them why they didn't attend this critical hearing about the most urgent humanitarian crisis in Kashmir. Email them a link to the hearing.
If your Congressperson did attend, click on your Congressperson below and our recommendations on how to respond to them.
Tweet & Call Congresspersons Who Cared to Show UP:
Virginia's Abigail Spanberger (D) @RepSpanberger (202) 225-2815
Read more about her excellent questions and a personalized Call to Action For Rep Spanberger
Washington's Pramila Jayapal (D) @RepJayapal Phone: 202-225-3106
Thank her for offering to sponsor a resolution on Kashmir
Florida's Ted Yoho (R) @RepTedYoho Phone: 202-225-5744
Click here to and ask ranking Member Ted Yoho why he called Kashmir India's internal matter
Maryland's Anthony Brown (D) @RepAnthonyBrown 202- 225-8699
Click here for his personalized call to action
Pennsylvania's Brian Fitzpatrick (R) @RepBrianFitz (202) 225-4276
Click here and read his excellent questions and urge him to co-sponsor a resolution on Kashmir
Illinois's Raja Krishnamoorthi @CongressmanRaja (202) 225-3711
Click here to ask Rep Raja why he was silent at the hearing?
Minnesota's Ilhan Omar (D) @Ilhan (202) 225-4755
Click here to Appreciate Ilhan Omar for her Fearless Stance Against RSS
Maryland's David Trone (D) @RepDavidTrone (202) 225-2721
New jersey's Tom Malinowski (D) @RepMalinowski (202) 225-5361
Click here for a personalized call to action for Rep malinowski
Rhode Island's David Cicilline (D) @davidcicilline (202) 225-4911
Click here for his personalized call to action to thank him for talking about pellet guns
California's Brad Sherman (Chairman) @bradsherman (202) 225-5911
Click here for a personalized call to action for Rep Sherman
New York's Eliot Engel @RepEliotEngel Chair of the House foreign Relations Committee (202) 225-2464
Click here to ask Chairman Engel to sponsor a Kashmir Human Rights Resolution
Texas's Sheila Jackson Lee @JacksonLeeTX18 Chair of Pakistani Caucus (202) 225-3816
Click here for an in-depth look at her pointed questions on potential genocide in Kashmir and call to action
California's Jim Costa @RepJimCosta (202) 225-3341
Click here for a personalized call to action
California's Ami Bera @RepBera (202) 225-5716
Click here for the personalized call to action
Pennsylvania's Chrissy Houlahan @RepHoulahan (202) 225-4315
Click here for a personalized call to action
Michigan's Andy Levin (D) @RepAndyLevin (202) 225-4961
Click here for a personalized call to action
Pennsylvania's Susan Wild (D)@RepSusanWild (202) 225-6411
Click here for personalized call to action
California's Ted Lieu (D) @RepTedLieu (202) 225-3976
Click here to thank him for his powerful grilling of witnesses
Resources
Use this Script If Your Congressperson was not present
SCRIPT: "I am a constituent of your district and I would like to ask why my Congressperson was not present at the Hearing on Human Rights in South Asia on Tuesday, October 22 held by The House Subcommittee on Asia. As the dire humanitarian crisis remains in Kashmir in the form of an inhumane communications blockade, detention of thousands including minors, and lack of ground access to international journalists, human rights organizations, and U.S. officials, we urge you to condemn the Indian government's unprecedented actions in the region and demand an independent investigation of human rights abuses in Kashmir."