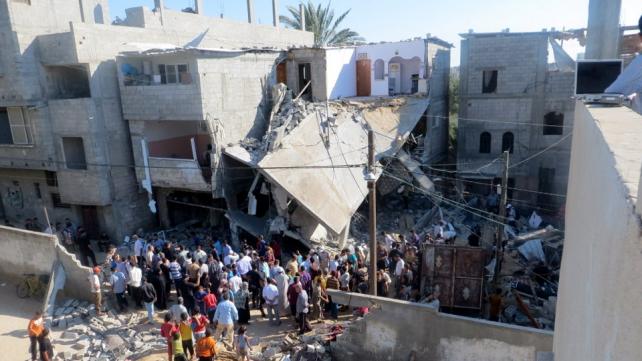 Your Islamic center can adopt, rewrite and issue the following statement to your local media.
Please replace "Muslims of America" with the Muslim community of your city. Type this or your modified version on your Masjid or Islamic center's letterhead.
Fax this to the news desk of your local media outlets (newspapers, radio and television). You can Find the fax numbers in your yellow or white pages.
Do add the name of a contact person and a cell number on which that person can be reached. This person should be able to speak on your community's behalf as a spokesperson.
If the media is interested in visiting your Masjid, Islamic center or school, welcome them.
Sample statement:

The Muslims of America join their fellow Americans today in condemning these dastardly acts of terrorism and share the grief and sorrow of the nation. Our hearts go out to the friends and families of those who are victims of this despicable tragedy.

Obviously this seems a well-planned and well-coordinated act of terrorism and we are confident that the law enforcement authorities will soon discover the identity of perpetrators responsible for this contemptible act and bring them to task with the full force of the law.

At this moment of confusion, uncertainty and naturally highly charged emotions, we earnestly appeal to the media not to rush to judgment, as was done in the wake of the April 1995 bombing of the Alfred P. Murrah Federal Building in Oklahoma City. Let the response of our nation be mature and thoughtful. This is a moment of prayer and unity not of hasty reaction.
We pray to God to give strength to all of those who have suffered during this catastrophe.
Photo Attribution: http://commons.wikimedia.org/wiki/File:The_home_of_the_Kware%27_family,_after_it_was_bombed_by_the_military.jpg