Both Lord Nazir Ahmed and Imam Malik Mujahid recently returned from Rohingya camps in Bangladesh and they will share their first-hands stories of Rohingya genocide with us. You will also learn about Burma Task Force, which is run by Sound Vision.
Please join us for a special benefit dinner, where we will launch a 24/7 crisis line in Houston and provide an update on the public relations firm Sound Vision is working with for the community.
Note: The event is free but limited to a maximum of two persons per family. Registration is mandatory. Thank you.
*What: Benefit Dinner for Sound Vision
*When: Friday, December 1, 2017 @ 7 pm-10 pm
*Where: Hager Hall Conference & Event Center, 901 Dual Highway, Hagerstown, MD 21740
*Who: Lord Nazir Ahmed (Member of the House, British Parliament) & Imam Abdul Malik Mujahid (President & Founder of Sound Vision)
*Ticket: FREE Admission. Online Registration Required!

*Contact: info@soundvision.com | 1800-432-4262
As Masjids take care of Salat & Zakat, CAIR fights for our civil rights & ISNA, ICNA and MAS bring us together, Sound Vision does public relations & develops relevant content for Muslim youth, parents, Imams, teachers and our neighbors.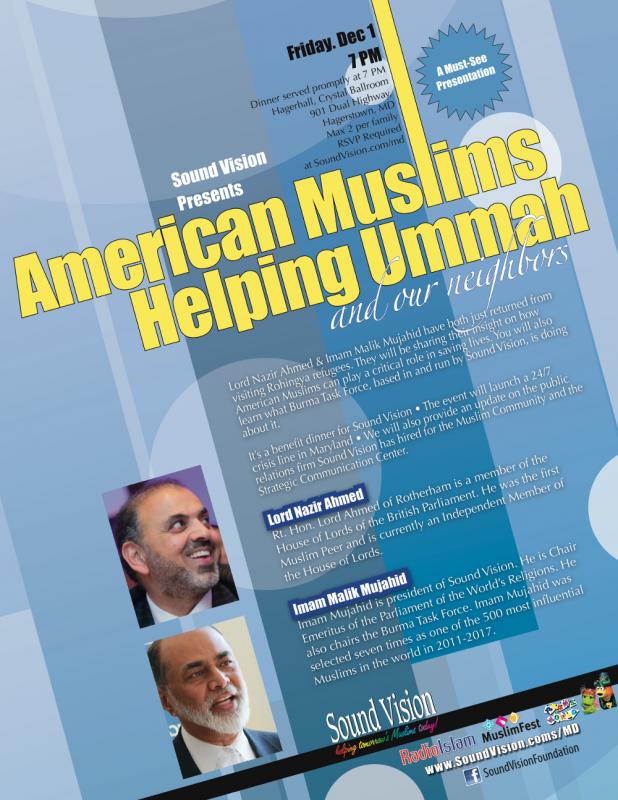 Rt. Hon. Lord Nazir Ahmad of Rotherham is a member of the House of Lords of the British Parliament. He was the first Muslim peer and is currently an indepent member of the House of Lords.
Imam Abdul Malik Mujahid is declared five times as one of the 500 most influential Muslims in the world. He leads Sound Vision, Adam's World, Radio Islam as well as Burma Task Force USA. He led a successful campaign to declare rape as a war crime in 1990s. Imam Mujahid is an award winning author and producer.