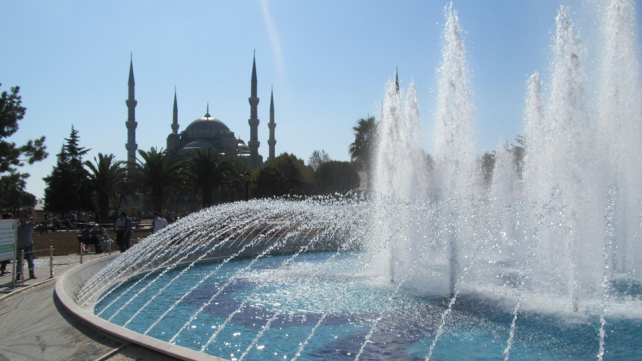 For a number of families, going on vacation seems to bring to mind one main location: Disneyworld.
But what many seem to have not noticed is that the expensive trip to Disney (count the hotel stay, the fee for the amusement park itself, candy and food in the park, etc.) is not all it's cracked up to be. Many parents go to the park thinking Disney represents good clean family fun. That may have been the case a number of years ago, but not anymore.
But it's not just the moral dilemma that going to Disney poses. There's also the financial aspect. In the same amount of money it takes to take a trip to Disney with the family, you can go somewhere else, in many cases for less cost and with a clearer conscience. Here are some ideas:
1. Visit Muslim Spain
Do Muslims have a history in Europe? Yes and Spain is where much of it happened. Go to Spain and check out the premier Muslim historical cities: Cordoba and Alhambra, for instance. Visit the great mosque, check out the palaces. Take lots of pictures and record an audio travelogue. If you want great cuisine and hospitality, this is the place to go. Look for and pray in the local mosques and meet your Spanish brothers and sisters. You may also want to visit Gibraltar, where the Muslim leader Tariq bin Ziyad landed. Spain is a popular vacation spot for the Europeans, so reservation and planning is important.
2. Visit Turkey
Turkey was the home of the last great Muslim Empire, the Ottoman Caliphate. This is a country of Islamic monuments. You can find the grave of the Prophet's (peace and blessings be upon him)'s Companion Abu Ayyub Ansari, may Allah be pleased with him. The great poet Jalaluddin Rumi is buried here as well. Visit Istanbul and its blue mosque, meet the people. Great bazaars to shop in. When you say Salam to these people, they really show their brotherhood. Go to the cities and smaller villages and meet your brothers and sisters. Turkey is very busy during summer and like Spain, many European and American tourists visit the country. So plan early. A trip to Turkey, if planned properly, will be far cheaper than a visit to Disneyworld.
3. Go to England
Do you know where one of the top English translators of the Quran, Abdullah Yusuf Ali, lived and died? Do you know where poet of Islam Muhammad Iqbal spent part of his life?
The answer: England. Anyone who thinks there is no Muslim history in England is wrong. Muslims have at least a century of history in this country of the former colonial empire. You can go to Trafalgar square, and while others go about their business, you can find Muslims doing Dawa (inviting others to Islam). You can also visit Hyde Park; the famed public soapbox, and deliver your own lecture about anything in life. Also check out the British Museum which features Islamic art, manuscripts and items of historical significance to Muslims. This museum probably has more artifacts of Muslim history than many Muslim countries themselves because of Britain's colonial legacy.
4. Head up to north and pray in an icy mosque
Is the summer heat already getting you down? Looking for a way to cool off outside of turning up the air conditioner or fan? Then you can head north, not up to Canada, but further, all the way up to the Arctic. And don't worry, you won't be the only Muslim there. According to Islamic Horizons magazine (September/October 1996 issue) there are Muslims in Fairbanks, Alaska, for instance. They do pray, (they did not have a Masjid of their own at the time), and they do have Halal meat which is flown up from Seattle. Meet people who are not easily found on Main Street America anymore. It iwill an be adventurous and exciting learning experience.
5. Connect with nature
Are you tired of the urban landscape or bored of suburbia? If so, you need to reconnect with nature. One great place to do this in the United States is the Great Smoky Mountains National Park in North Carolina and Tennessee. Not only can you go hiking, but you can also sign up for the park's white water rafting. The Sierra Club has many things to offer in this area.
6. Follow the Trail of Tears
Are you a history buff? If so you can learn more about Native American history while you follow the Trail of Tears. This is a national historical trail that runs in Missouri. The history is as follows: between 1830 and 1850, close to 100,000 Native Americans living between Michigan, Louisiana and Florida were forced to move westward after the American government either forced treaties on them to get out or used brutal force against those who resisted this. Muslims can see similar trails of tears of the Ummah in other parts of the world today. Kosova being just one example. These trails are situated in some of the most beautiful mountainous greenery in America.
7. Visit Chicago
Are you one of those people who finds big cities exciting? Why not visit Chicago? Not only will you find the tallest building in the world (the Sears Tower, which was the work a Muslim architect, you can check out the famous Devon Ave., home of a number of Muslim stores [and Sound Vision's too]. Chicago has about 80 places for Friday prayers, eight Muslim schools and a lot more.
8. Check out the Underground Railroad
Do you think the railroad is just an outdated mode of transport? Well, that was not the case for the close to 50,000 African-Americans who escaped slavery through the Underground Railroad between the 1830s and the 1870s. The railroad was their way of fleeing the slavery white European settlers had shackled them into, and they traveled from parts of the US all the way up to Canada. Today, in St. Louis, Missouri, you can be part of a tour of some of the Underground Railroad sites and see how slaves tried to escape the oppression. In all, there are 38 sites related to the Underground Railroad in the US.
9. See Central Asia
Want to see where Imam Bukhari, the famed scholar who put together the most authentic collection of Hadith was from? Then you have got to go to Central Asia. It may seem far, but can you believe that it is possibly also cheaper than Disneyworld, thanks to the currency exchange rate? Also, Central Asia is where new Muslim republics are emerging following the fall of communism in the last decade.
10. Help build a Masjid in Kosova
How many Masjids were there in Kosova before the war? Serbs in Kosova destroyed about 200 Masjids. And now, with the rebuilding of the country taking place, help is needed to build these mosques. If you decide to go to Europe, try to get to Kosova and help our brothers and sisters rebuild this part of Muslim society.
11. Visit Bosnia
Remember Bosnia? The country so many Muslims and other people with heart worldwide rallied in support of during the three-year long genocide which ended in 1995? Well, if you're in Europe, why not see how our brothers and sisters there are doing? How has life improved or changed for them since the end of the war?
12. Head east
Did you know there are probably about 150 million Muslims in China? Muslim food in China is very popular with non-Muslim Chinese. One of the languages on Chinese currency is written in Arabic script. Not only will you get to see the culture and people who invented bureaucracy in the world and built theWall of China, you will also be visiting the country with the largest population in the world. If you have some extra money, head out to China. Bring extra copies of the Quran as a gift for your brothers and sisters there.
13. Visit the Old Country
That is, your roots, the place of your heritage, where your parents, grandparents, or great-grandparents left before arriving in North America.
14. Go to the beach, but....
What could be more beautiful than the spray of the ocean, cool sand under your feet and beautiful scenery? Heading out to the beach is a great place to go sometime during your vacation. But don't forget to do the Jihad of the eyes when you go.
15. Go for Umrah
Many Muslims save their holidays and vacation time to go for Umra. Some also combine it with a trip to another location. If you do plan to visit Makkah and Madinah, do see our Umra guide and remember Sound Vision and its team in your Dua (supplication).
Here's a bonus vacation spot....
Visit the country's first Muslim museum
The International Museum of Muslim Cultures is the first of its kind: a Muslim museum in the United States. It celebrates the contributions of Muslims to civilization the world over in an attractive building on East Pascagoula street in Jackson, Mississippi.