*What: A Benefit to Build One America Coalition to push back against Muslim Registry & to retain a Public Relations firm for Muslims
*When: Sunday, April 30, 2017 @ 5 pm (Dinner will be served right after Maghrib)
*Where: Hampton Inn Boston/Natick, 319 Speen St., Natick, Mass., 01760
*Who: Professor John Esposito (Author & Professor John Esposito, Georgetown Universit) & Imam Abdul Malik Mujahid (President & Founder of Sound Vision)
*Ticket: $30.00 / adult • $15 / child (under 12) • Baby sitting available

*Contact: info@soundvision.com | 1800-432-4262
As Masjids take care of Salat & Zakat, CAIR fights for our civil rights & ISNA, ICNA and MAS bring us together, Sound Vision does public relations & develops relevant content for Muslim youth, parents, Imams, teachers and our neighbors.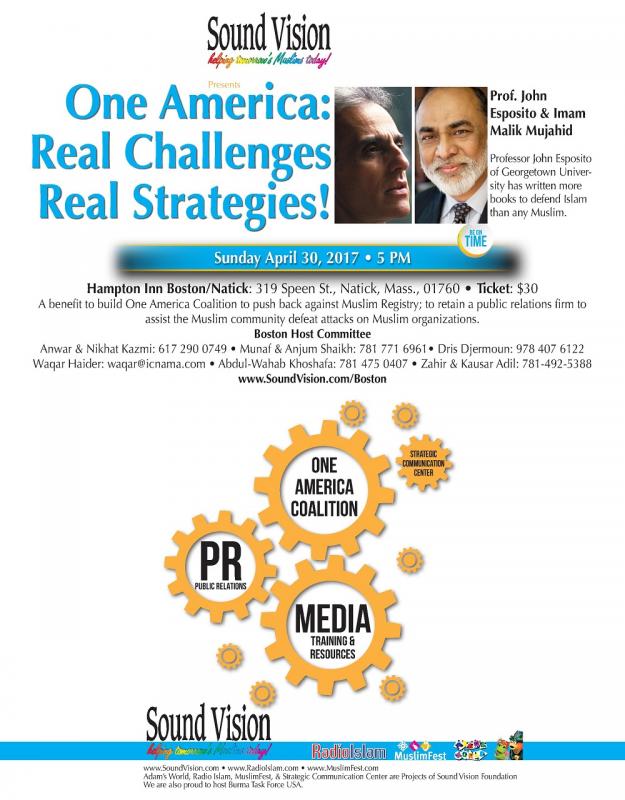 Prof. John Esposito is a professor of International Affairs and Islamic Studies at Georgetown University in Washington, D.C. He is also the director of the Prince Alwaleed Center for Muslim–Christian Understanding at Georgetown. He has written more books to defend Islam than any American Muslim.
Imam Abdul Malik Mujahid is declared five times as one of the 500 most influential Muslims in the world. He leads Sound Vision, Adam's World, Radio Islam as well as Burma Task Force USA. He led a successful campaign to declare rape as a war crime in 1990s. Imam Mujahid is an award winning author and producer.