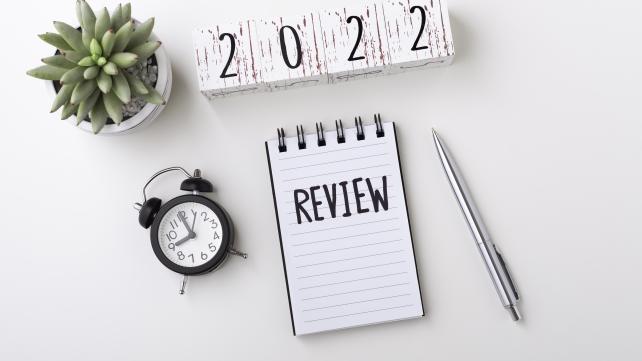 JANUARY
-Sudan's Prime Minister Abdalla Hamdok resigns amid deadly protests and political deadlock after a military coup that derailed the country's transition to democracy. Hamdok's decision came six weeks after he returned to his post in a deal with coup leaders. He had said that he could save Sudan's move to democracy. But the country's pro-democracy movement rejected that agreement, and Hamdok did not name a new government as thousands of Sudanese citizens continued to protest against the military's coup.
-A nationwide state of emergency is declared in Kazakhstan after protests related to a sharp increase in liquefied gas prices. This was after the government lifted its price cap on January 1. Although the protests began peacefully, after spreading to other cities, especially the nation's largest city Almaty, the demonstrations turn into violent riots, as a result of dissatisfaction with the government and widespread poverty.During the week-long unrest and crackdowns, 227 people are killed and over 9,900 were arrested, according to Kazakh officials. The cabinet of prime minister Askar Mamin resigns, while president Kassym-Jomart Tokayev removes former president Nursultan Nazarbayev.
-The first successful heart transplant from a pig to a human patient occurs in Baltimore, Maryland by a team that includes Dr Muhammad Mohiuddin, scientific director of the university's animal-to-human transplant program. He is considered one of the world's foremost experts on transplanting animal organs, known as xenotransplantation.
-In India, protests began in early January after a government-run women's college in the coastal city of Udupi barred Muslim students wearing the hijab from classrooms, saying it was not part of the school uniform. The following month, Muskan Khan, a student who gains international headlines after her iconic rebuttal of "Allahu Akbar" to a group of men who heckled her for wearing a hijab, puts a face on the challenge stating about her choice of dress that: "It is beyond a symbol of Islam for us; it is a vessel of our self-respect."
-Hamtramck, Michigan, the city swears in its first Muslim mayor, Amer Ghalib, along with Adam Albarmaki, Amanda Jaczkowski and Khalil Refai, who make up the city's first-ever all-Muslim council.
-A baby boy handed in desperation to an American soldier across an airport wall in the chaos of the US evacuation of Afghanistan in August 2021 is found and reunited with his relatives.
-17 people, including eight children, are killed in a fire in a high rise in the Bronx, New York. All were Muslim immigrants from West Africa.
-US President Joe Biden nominates the first Muslim woman to serve as a federal judge in the Eastern District of New York. Nusrat Choudhury is the legal director of the American Civil Liberties Union of Illinois. She is the second Muslim American federal judge after the Senate confirmed Zahid Quraishi, who is also a Biden nominee, to the U.S. District Court for the District of New Jersey in June. Quraishi is the the first Muslim American federal judge In U.S. History.
-Adeel Rana becomes New York's First Muslim-American Deputy Police Commander. The news comes less than a week after the city announced it would settle two lawsuits that alleged the NYPD spied on Muslims after the 9/11 attacks because of their religion.
-News reports highlight Army Colonel Khallid Shabazz, who is also a US Army Chaplain, as highest-ranking American Muslim soldier who is also a Tiktok sensation, with about 43,000 followers.
-French Region Cancels Subsidy To Art Festival Over Mural Of Woman Wearing Hijab
FEBRUARY
-ISIS leader Abu Ibrahim al-Hashimi al-Qurashi is killed in a counter-terrorism raid by U.S. special forces in north-western Syria. It was the biggest American raid in the country since the 2019 operation that killed ISIS leader Abu Bakr al-Baghdadi.
-Russia invades Ukraine. The EU, the US, and their allies commit to removing Russian banks from the SWIFT payment system, which serves as the main messaging network through which international payments are initiated. They also impose measures on the Russian Central Bank and further restrictions on Russian elites. These and other sanctions fuel a financial crisis in Russia.
-The Canadian Council of Muslim Women, led by Toronto sociology professor Sarah Shah, issues a study that sheds light on how Canadian Muslim women experience poorer social and economic conditions compared to non-Muslim women.
MARCH
-The United Nations declares March 15 International Day To Combat Islamophobia. Its General Assembly adopted the resolution by consensus. It was introduced by Pakistan on behalf of the Organization of Islamic Cooperation, and marks the day in 2019 when a white supremacist gunman entered two mosques in Christchurch, New Zealand, killing 51 victims and injuring 40 others.
-The Bollywood film \"The Kashmir Files" about the exodus of Kashmiri Hindus from the region, and praised by Indian Prime Minister Narendra Modi, instigates anti-Muslim sentiment in India, with some viewers calling for the genocide of Muslims.
-The first Islamic school in Australia's Northern Territory opens its doors. The Australian International Islamic College is open to students of all backgrounds. Australia is home to over 600,000 Muslims, who make up about 2.6 per cent of the population, according to the Australian Bureau of Statistics.
-Saudi Arabia announces the resumption of Itikaf during Ramadan in the Grand Mosque in Makkah and Prophet's Mosque in Madinah after two years. Both were closed for the spiritual retreat due to the coronavirus pandemic.
-Muslim Council of Ukraine President Sheikh Seyran Aryfov, in a virtual discussion with the Manitoba Islamic Association in Canada, says an estimated 10,000 Ukranian Muslims are dead due to the ongoing war with Russia. Aryfov estimates there were about 1.5 million Muslims living in Ukraine prior to Russia's invasion, and most of them were in areas hardest hit by the war.
-Islamic scholars at an Ulema gathering in Kabul, Afghanistan call on the Taliban to reopen schools for girls in grades 7 to 12. The group had shut down high schools for girls following their takeover in August 2021.
APRIL
-Ramadan begins April 2. Muslims around the world start fasting, engaging in charitable deeds, and offering meals to the hungry.
-A report by the Lily Family School Of Philanthropy's Muslim Philanthropy Initiative finds that Muslim Americans gave $1.8 billion in zakat funding to domestic and international causes in 2021. The average Muslim American household donated $2,070 of Zakat funds to charity,
-Google bans dozens of apps that were harvesting Muslim data For U.S. Defense Contractor. The Panama-based company that wrote the data-collecting code is linked to a defense contractor that does cyberintelligence work for American agencies in Virginia. The code was found in several Muslim prayer apps, among others, and reportedly ran on millions of Android devices.
-The Danish leader of the far-right Stram Kurs party burns a copy of the Quran in a heavily-populated Muslim area in Sweden. Accompanied by police, Rasmus Paludan, went to an open public space and placed the holy book and burned it while ignoring protests from onlookers. About 200 demonstrators gathered in the square to protest.
-Five Muslims Injured In drive-by shooting In Toronto suburb of Scarborough. The men had finished Taraweeh prayers and were randomly attacked.
-K-POP singer Daud Kim performs Umra and visits Madinah during Ramadan, posting a picture of himself in Ihram in front of the Kaba. Kim converted to Islam in 2019, and changed his name from Jay Kim to Daud Kim. He says a trip to Indonesia was the first step that led him to finding out more about Islam, and eventually converting.
-20 Muslim-owned shops demolished in New Delhi, India before India's Supreme Court halted the demolitions,. But for nearly an hour after the Supreme Court order, local officials continued the demolition, including that of the outer entrance and stairs leading into a mosque. Government officials stopped the bulldozers just outside the entrance of a Hindu temple, not far from the mosque, and began to retreat. Muslim residents expressed outrage and said they were boing targeted.
MAY
-Muslims around the world celebrate Eid-ul-Fitr.
-Detroit Opera Presents X: The Life And Times Of Malcolm X. Directed by Robert O'Hara and conducted by Kazem Abdullah, the opera describes the rise and fall of one of history's most influential Black men. It is told through an Afrofuturism lens with musical notes from swing, scat, and modal jazz.
-Six Muslims are among Time Magazine's "100 Most Influential People of 2022". They include President Samia Suluhu Hassan, who was elected the first female president of Tanzania in 2021 and Khurram Pervez, chairperson of the Asian Federation Against Involuntary Disappearances. He was arrested by the Indian government in November 2021, and attempts were made to silence him in his fight to establish human rights and injustices in Kashmir.
JUNE
-Saudi Arabia cancels travel groups for Western Muslim pilgrims just weeks before the Hajj season, requiring them to book their pilgrimage through a lottery system via a government website, Motawif.com.sa. This leads to an outcry as well after it is revealed that the company running the website has ties to India's virulently anti-Muslim Hindutva government.
-Historic and devastating floods begin in Pakistan, ending in October, killing over 1,000 people, destroying hundreds of thousands of homes and millions of acres of crops. Overall, the disaster affects more than 30 million Pakistanis and causes billions of dollars in damage. prompting cries for more action on climate change.
-The first Hajj pilgrims from outside of Saudi Arabia in two years arrive from Indonesia. Foreign pilgrims were barred in 2020 and 2021 due to the coronavirus pandemic.
-Disney's first Muslim superhero, Ms. Marvel, hits the screens. The origin story of Kamala Khan, a 16-year-old Pakistani American from New Jersey is a six-part series that streams on Disney+.
Venice's first mosque is inaugurated. The local community bought the building with proceeds of the zakat collected by Muslims in Venice and the nearby industrial port of Mestre.
Arizona's first Muslim pro tempere judge, Laila Ikram, takes the bench. Pro tempore judges fill in on matters when full-time judges cannot. The position can be a starting point to making a leap to being appointed as a judge on a permanent basis. Ikram is the first judge in the state's history to wear a hijab on the bench and the first to swear the oath of office on the Quran.
JULY
-Dr. Hashima Hasan, is part of the team that helped develop the Hubble Space Telescope, which has captured historic images of the universe. In a July 12 live event, NASA released the images captured from the telescope. These will allow scientists to make discoveries about the life cycle of stars, galaxies, and planets and use that information to understand the ever-expanding universe. Hasan was part of the committee that identified and selected objects to be imaged that demonstrate that the powerful new instruments were ready for science.
-Khizr Khan, who gained worldwide fame when he challenged former US president Donald Trump's knowledge of the Constitution during the 2016 U.S. presidential campaign, receives America's highest civil award — The Presidential Medal of Freedom.
AUGUST
Salman Rushdie is attacked while on stage in New York. He is stabbed and punched by Hadi Matar of New Jersey. Rushdie lost vision in one eye and the use of one hand. Iran, which issued a death threat in 1989 against Rushdie's book "Satanic Verses", denied any involvement in the attack.
Asim Ghafoor, the former lawyer of Saudi journalist Jamal Khashoggi, is released from prison in the United Arab Emirates. Ghafoor, a U.S. citizen and civil rights lawyer, had been traveling through Dubai en route to Istanbul for a family wedding when he was detained. Emirati authorities said they had investigated Ghafoor at the request of the United States government. However, the U.S. State Department said Washington had not ordered Ghafoor's arrest. Ghafoor is a board member of the Democracy for the Arab World Now group, which is heavily critical of the authoritarian UAE government.
-Maryland launches the Emmett Till Alert system. It will notify African American leaders in the state of any credible racist incident or hate crime that happen there. It is named after 14-year-old African-American boy whose 1955 lynching in Mississippi became one of the most notorious examples of racial violence in American history. The system is modeled after the Amber Alert.
SEPTEMBER
-U.S. government releases a report that finds that life expectancy in the country dropped In 2021 for the second consecutive year. Officials from the Centers for Disease Control and Prevention blamed Covid for about half the decline that year, when vaccinations became widely available but new COVIDd variants caused waves of hospitalizations and deaths. Other contributors to the decline in life expectancy were listed as longstanding problems: drug overdoses, heart disease, suicide and chronic liver disease.
-U.S. sanctions Iran's Morality Police in wake of Mahsa Amini's death earlier that month. The 22-year-old was detained for allegedly wearing her hijab improperly. Iranian authorities have tried to blame her death on a heart attack. However, her family and many in Iran have rejected that claim, saying she was the victim of police brutality. In addition to the Morality Police, the US also blacklists seven senior officials, including its head.
OCTOBER
-A New Jersey teacher sues Muslim Olympian Ibtihaj Muhammad for defamation over allegations that the Muhammad ruined the teacher's reputation and career. This was after a now-deleted social media post where the athlete said the teacher abused a second-grade Black Muslim student by yanking her hijab off her head.
-The Islamic community of Salvador in Brazil pushes Harvard University to repatriate the skull of an enslaved Muslim man who allegedly took part in a famous uprising of African Muslims in the city in 1835. The skull is part of Harvard's collection of human remains of 19 people of African origin likely enslaved in the Americas.
-Seventy-five year old Saifullah Paracha, Guantanamo Bay's oldest inmate, is repatriated to Pakistan. He had been held on suspicion of ties to al Qaeda since 2003, but was never charged with a crime.
-Saudi Arabia announces that it has dropped the requirement for women to have a Mahram (male relative related by blood or marriage) to perform Hajj and Umrah if they are not traveling in a group. Hajj and Umrah Services Adviser Ahmed Saleh Halabi said that it is now permissible for a woman to perform Hajj or Umrah without a mahram, accompanied by "trustworthy women or secure company to perform Hajj or Umrah. This is the view of the Maliki and Shafi'i scholars."
NOVEMBER
-Fifa begins in Qatar. It is the first time a Muslim and Arab country hosts the international competition. Controversy erupts over its limited alcohol ban, track record on women's rights, LGBTQ rights, as well as the death and abuse of migrant workers who built the infrastructure for the games since 2010.
-Pakistan's Climate Minister Sherry Rahman leads the push to establish a loss and damage fund for countries worst affected by climate change at the UN's COP27 conference in Egypt.
-More than 80 Muslim candidates in the U.S. win local, state, federal and judicial seats in over 20 states, according to a report from CAIR and the Jetpac Resource Center. A record-breaking 145 American Muslim candidates ran for local, state and federal office, including 48 state legislative candidates in 23 states.
-In an ongoing crackdown on French Muslims, France shuts down two Islamic schools in the city of Montpellier. A controversial law introduced in France in 2021 has been criticized for singling out Muslims, while some 25 mosques have been closed down in the country on various grounds.
DECEMBER
-Many Muslim fans of FIFA cheered on Morocco in its games against Spain, and France, which which the team lost to 2 to 0. Despite the loss, they saw it as a psychological victory for Africa, Arabs, and Muslims against former colonial powers.
-Muslims express concern over the rise of Ron Desantis's political power after the Florida governor positions himself for a run for the U.S. presidency. This is after a landslide victory in the midterms and reports of his views and behavior in relation to Guantanamo Bay, as well as his track record off co-sponsoring a number of bills that targeted Muslim communities inside and outside the country.