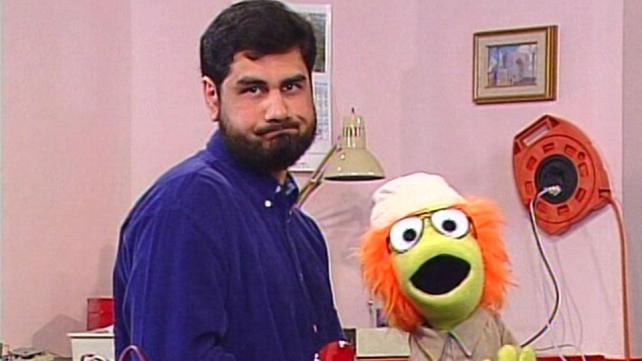 Jawad Jafry is the brains behind many aspects of the Adam's World series. He's the most visible of all Sound Vision staff, as the orange-haired, Kufi-wearing puppet's best friend, who's helped Adam deal with things like sibling rivalry, a neighborhood bully and fear of spiders.
Br. Jawad works from Sound Vision's Canada office in Scarborough, Ontario and has also been involved with other Sound Vision video productions besides the Adam's World series. He is one of Sound Vision's earliest staff members.
SV: What is your role in the Adam's world productions, besides playing the character of Asad?
JJ: People ask me if I operate Adam at the same time. This is one of the things I don't do on Adam's World. I guess I'm kind of like the chief cook and bottle washer for the show.
I came up with the idea for the series when I was studying children's broadcasting in Ryerson. When Adam took off with Let's Pray in 1990, I was asked if we could build a series around him.
I already had the template for "Adam and Friends" and, with some small changes, it became "Adam's World". The character of Asad was not really planned.
I was content to write, direct and provide lyrics for the show when it started. By about Adam's World Three (Finding Courage), I was Adam's sidekick and one of the editors of the program. Now I produce the show and do some camera work on it as well.
Alhamdolillah, we have a wonderful team of people that work on Adam's World. Our puppeteer Tom Vandenberg is the creator of Adam, Aneesah and all the other puppet characters. He also is the principal performer for all of the above.
Brother Dawud Wharnsby-Ali takes us to new heights with his sensational songs, cameo appearances, character voices, and, he assists Tom to boot.
Sister Rukhsana Khan has been helping me with the scripts for a number of years and has penned the lyrics to some of the best known songs in the series.
Brother Mohamed Shakil Nundloll is the "animation guru" behind all the eye-popping 3-D animation that you've seen from Born to Learn (Adam's World Seven) till now.
Adam's World owes a huge debt to the talents of people who helped it get off the ground in the early days - people like Gerard Bilal, Naeem Baig, Khalid Khan, Eesam Khairullah, Mangelo and Abdul Malik Mujahid.
So, even though I do play a significant role, there are many talents associated with the series. May Allah reward all those brothers and sisters and their families. And May Allah bless all of those Muslims who have supported Adam's World over the years. If it wasn't for their support, we wouldn't be talking about it today.
SV: Is it difficult pretending Adam is a real kid when you're shooting the videos?
JJ: It's difficult pretending that Adam is real at all. Television production and filming with puppets in particular, is pretty unglamorous work.
You're often in cramped quarters working against the clock with all sorts of wires and equipment surrounding you. In this type of setting, Adam at times is almost like a prop or an instrument who is operated by a very funny puppeteer.
When he's on your screen, however, you see him in a different light. There he's in his element and his over exuberant, charming personality shines. When you see Adam through the medium of television, he is exactly what I envisaged him to be-a sweet and fascinating puppet who loves Islam and loves to learn. That is Adam's own world. By the way, Aneesah is usually easier to work with than Adam. She's quite a bit smaller too so it's a little easier relating to her on camera.
SV: Given that so many Muslims tend to be oriented towards medicine, engineering and science in general as opposed to the arts, what made you select this direction for your career?
JJ: Actually, I wanted to become a lawyer. Some of my relatives STILL want me to become a lawyer. In my last year of high school, I changed my mind. I was quite amazed to know that Ryerson University (my alma mater) offered a degree program in Radio and Television Arts.
Ryerson's program was the best in the country (Canada), and, it was a three year degree. I decided to apply and, Alhamdolillah, I was accepted.
Maybe it is too much to ask but I'd really like to see the day when our community identifies areas where we are under-represented, make it easy for our youth to enter those fields, and, when they graduate, have them work within the community. I think we would all be so much better off if that happened, Insha Allah.
SV: What people (i.e. your children), events, thoughts, etc. influence the production of the Adam's World series and other productions at Sound Vision? that you have been involved with?
JJ: My childhood was over saturated with media exposure.
My parents were involved in radio, television and cinema in Toronto, and, like most kids my age, I vegged out in front of the TV quite a bit.
When I was old enough to spell correctly, I more or less joined in. This mosaic of media experiences contributes to almost any production I do at Sound Vision-be it Adam's World, documentary productions, writing for print or even live presentations.
I don't draw on these experiences consciously but, after some introspection, I can sometimes see how they played a role in a specific area.
For example, the transvisualizer segment in Adam's World was influenced by the old Star Trek series. It was only after we started editing the program that the similarity became apparent.
Sometimes a really "great" idea will come to mind, I'll start thinking about it feverishly and then it will occur to me, "hey, didn't I see that in The Flintstones (or some other show)?" Those types of ideas get dropped quickly.
Some of our very best scenes in the Adam's World series are inspired from an Ayah in the Quran or a Hadith of the Prophet, peace and blessings of Allah be upon him.
Other influences include my studies at Ryerson, remembering how it was like to be a kid (it seems a long time ago now), and, watching my own children grow up.
Although I grew up a media junkie, I'm very careful about what I let my children watch. For one reason, (most) morals have degraded substantially since I was a kid. Commercialism is also much more raw and in your face. Another reason is most children watch adult programming which I can't stomach to tell you the truth.
The type of voyeuristic, raunchy, one-dimensional garbage that passes for "broadcast television" nowadays is not what I want my kids consuming, thank you very much.
In a small way, I hope that shows like Adam's World can create a much more wholesome experience for children. If an Islamic children's series can become a viable alternative, then we will have played an important role in laying a better foundation.
Alhamdolillah, it seems those children who benefit from Adam's World the most are the ones whose parents take that extra step in providing as Islamic an environment as possible in their homes.
SV: Who were your top three favorite childhood characters (either in sitcoms, cartoons, or kids shows)? Why?
JJ: I had different favorites at different ages.
When I was very young, I loved cartoon characters, when I was older "superheros" in comic books and Saturday morning cartoon shows fascinated me.
I never had an absolute, all-time favorite. At least I don't remember. I once interviewed a sister for our Hijab documentary (see http://www.soundvision.com/news/hijab/hjb.hijab.asp) who said that her mother used to read her bedtime stories about the Companions of the Prophet, peace and blessings of Allah be upon him. She said she always grew up wanting to be like them. That blew me away.
It continues to amaze me how children can learn so much from the stories and characters they grow up with.
SV: What are your favorite places amongst those you have visited around the world? Why?
JJ: I haven't traveled all that much - outside the transvisualizer that is.
SV: Has anyone ever asked for your autograph?
JJ: Children ask me for my autograph at times. Conventions and conferences are when that kind of stuff happens the most.
Although I don't particularly like the whole "collectibles" phenomenon that has gripped our society, I see the request as an opportunity.
I usually write "To so and so: Assalamu alaikum. May Allah bless you in this life and in the Hereafter. Love Jawad". I figure, if I can help reinforce in a child's mind that this life is not all there is, then that's good, Insha Allah.
One of the most precious moments I experienced was when I met a beautiful little boy by the name of Tarek in Pennsylvania. Tarek has a neuromuscular disease and is confined to a wheelchair. He didn't recognize me at first but when he did, his face just lit up! If it were physically possible for him to get out of that chair and give me a great, big hug he would have done it. Masha Allah. The look of love and joy on his face was something I'll always treasure. May Allah bless all of our children in this life and in the Hereafter. Ameen.
SV: Why did you choose to work for Sound Vision, as opposed to other Muslim educational and multimedia companies?
JJ: When I started working with Sound Vision many, many moons ago, there weren't too many Islamic media companies around. Alhamdolillah that's changed but Sound Vision is still to my knowledge the only company that produces the largest variety of Islamic media - we produce products and information on video, CD-ROM, compact disk, audio cassette, and, the internet.