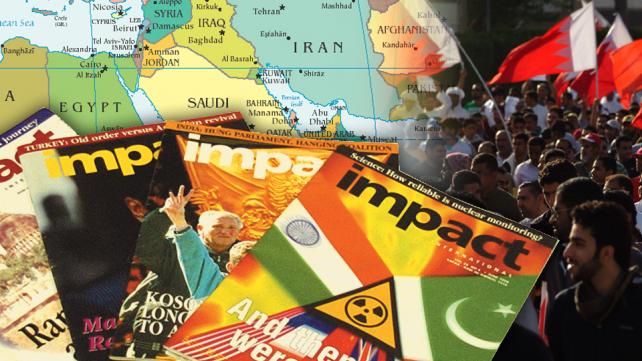 This is the story of how a small Muslim magazine launched a worldwide movement.
Do you remember Satanic Verses? Salman Rushdie's viciously anti-Islamic novel touched off a fire storm of anger and protests worldwide in 1989.
But few people know that in the summer of 1988, months before the book was even published, a Muslim magazine in the U.K. had already discovered its contents.
The magazine wrote an article before Satanic Verses was published, alerting the Muslim community about its contents. This article was photocopied, reproduced and distributed in England and around the world.
It was also used to galvanize a campaign to persuade Penguin, the book's publisher, to withdraw it from circulation. This campaign began before Satanic Verses was even published, and continued after this did happen.
The magazine that launched a movement was Impact International.
A global Muslim newsmagazine
"We call ourselves the international Muslim news magazine," notes Ausaf Faruqi, the magazine's managing editor in an interview with Sound Vision from England.
Impact is one of the oldest monthly magazines of its kind-it will be 30 years old next year. For the past three decades, it has churned out articles and analysis regularly, with a tiny staff.
In 1971, there were about five people working for Impact. Today the number is the same. Yet the paper has moved from being a small, newsletter-like publication to a thicker, glossy, professional-looking one today. It is currently distributed in 85 countries.
Why Impact?
Faruqi explains that while many good quality Muslim publications exist, they are all regional and local in their reach and perspective. Impact International, as the name proclaims, aims for a global outlook. Their don't just report the news though.
"We are definitely analytic in our approach," he says, adding that "what we aim to do is to create a debate by presenting arguments by differing and alternative points [of view] "
With a readership of over 100,000 and a small international subscription base of 20,000, Impact International aims to look at current affairs from a Muslim point of view.
Ad-free, government-control free media
Impact International financially depends entirely on its subscriptions and the donations of supportive individuals, and has no monetary support from governments, giving it the freedom to criticize without fear of folding. It also had no advertisements.
Some of the magazine's features, apart from more lengthy, analytical articles and columns on worldwide Muslim news, include book reviews, obituaries, a business and economy section, a science section and one called "People" featuring news about individuals, Muslim and non-Muslim, of interest to the Muslim world.
Why parents leave Impact on the coffee table for the kids
And lest you think Impact is only for the stuffy academic, Faruqi points out that many of the magazines subscribers are families.
"A lot of families subscribe to our magazine and leave it on the coffee table so that the children would occasionally or regularly read it with the wish that they want to ensure that they transmit values and also a connection they have to their roots of their country of origin, which Impact covers fairly adequately."
Some of the articles in the May 2000 issue of Impact International include: a follow up on riots and the march in Nigeria over the implementation of Shariah (Islamic law); an article on the United Nation's Beijing Plus Five conference and one on Orientalists and the Quran.